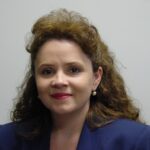 Ms. McCarthy graduated with honors from the University of Florida in Gainesville, Florida where she received a bachelor's degree in political science and criminal justice. She went on to graduate cum laude from the Stetson University College of Law where she was a member of the Law Review and the Moot Court Board. She received a Teaching Fellowship in research and writing, as well as won first place honors being named as the "Best Brief Writer" in a national appellate advocacy competition by a panel which included California Supreme Court Justices.
Subsequently, Ms. McCarthy interned for a federal judge, the Honorable Judge Elizabeth. Kovachevich for the U.S. District Court for the Middle District of Florida. She was honored to have many of her draft opinions published in the Southern Reporters. Ms. McCarthy went on to work for the Governor of Florida, the late Governor Lawton Chiles where she worked directly for the Governor's general counsel. In that capacity, she attended hearings on behalf of the Governor, wrote legal memorandum and outlined the Governor's constitutional appointment powers.
Thereafter, Ms. McCarthy went into the private practice for a large civil litigation firm in West Palm Beach, Florida. There she practiced in all aspects of civil litigation including corporate and insurance defense, medical malpractice, and commercial litigation. Ms. McCarthy successfully participated in several multi-million dollar jury trials and gained valuable litigation experience.
In 2000, Ms. McCarthy moved to Atlanta and opened her own private practice. Ms. McCarthy specializes in all aspects of civil litigation including family law, commercial litigation, real estate, labor, construction law, personal injury, medical malpractice and appellate advocacy. Ms. McCarthy currently represents several large and small businesses in Georgia and also devotes a significant portion of her practice to help Georgia families with their family law and personal injury matters.
While enjoying her work in the private sector, Ms. McCarthy has also continued her academic work as an Adjunct Professor of Business Law and Ethics at Mercer University in Atlanta, Georgia. She has taught several business and leadership courses. She has also been a paid guest speaker for several large companies, including Xerox, speaking on the issue of business writing, etiquette and communication in the workplace.      
Ms. McCarthy currently enjoys spending time with her husband, a local business owner, as well as two young children, Lauren and Matthew. She is an active member of her church community and often finds time for pro bono and other charitable work.
Memberships include:
Georgia Bar Association
Atlanta Bar Association
Florida Bar Association (inactive)
Courts Admitted:

All State, Superior and Magistrate Courts of Georgia
Georgia Court of Appeals
Federal District Court of Appeals-Georgia
Eleventh Circuit Court of Appeals
Georgia Supreme Court
Florida trial courts, appellate courts, and the Supreme Court of Florida (inactive)